Yestoday
Be rare with Yestoday
Rarity expresses the difficulty of finding a particular object, original and sought-after .
Elle se manifeste d'une manière peu fréquente.
Elle existe en faibles quantités parfois sous forme d'exemplaires en nombre limité, numérotés.

Nous créons à partir de vêtements de tous les jours, universels.
Les T-shirts, les vestes, les combinaisons sont des parties de nous même.
We express art, mood, emotion and commitment.
You wear it on the street, at work, at sports, at home.
We sleep with it, and not so much so affinities.
De la difficulté d'exprimer simplement les choses aujourd'hui, nous décidons de considérer ce vêtement comme un medium analogique, un pied de nez à l'ère digitale.
We screen print on the fibre, an original, singular and sincere universe.
Yestoday has a strong, personalized and constantly renewed editorial line.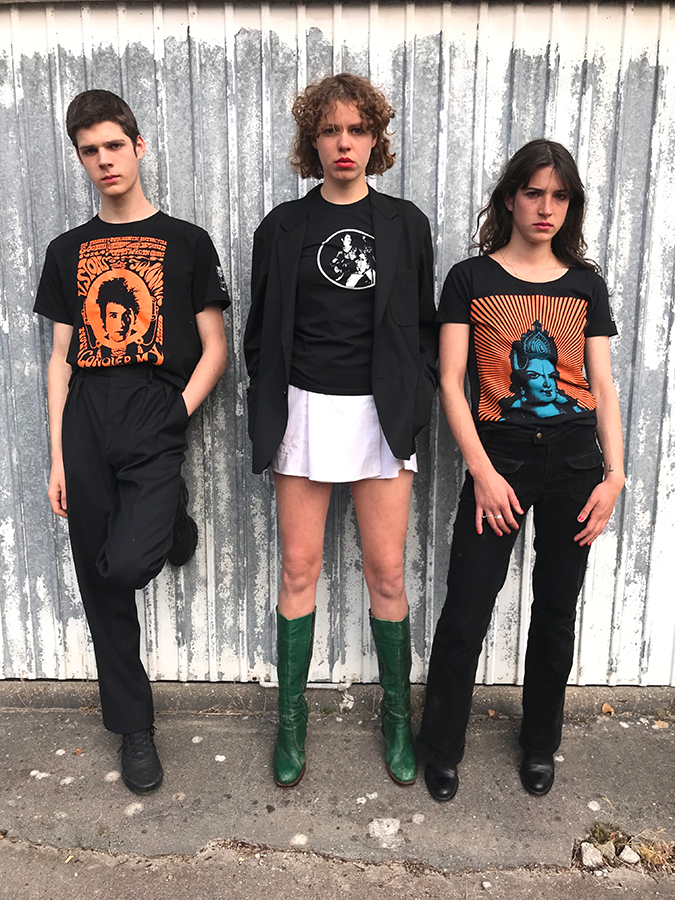 Avec nos vêtements, nous propageons de l'amour, des droits humains, des combats, des colères, des joies, des arts Pop, de la poésie et des utopies.
Nous redonnons aux individus et à la rue, les expressions d'un art visuel destiné à interpeller autant que séduire.
Yestoday is engaged, raw, playful and sexy.

Legend
Yestoday se bâtit autour de vieux cartons remplis de papiers jaunis sauvés de la destruction et de l'oubli. Ils contiennent des trésors, des tracts, des flyers, des affiches, des images rares issus de l'univers sulfureux de l'Underground.
Ces bouts de papier qui n'ont pas fini en filtre de pétard ont été collectionnés aux quatre coins du monde depuis plusieurs décennies.
Le monde parallèle de l'Underground, méconnu du plus grand nombre est depuis toujours, un foyer d'explosions idéologiques et graphiques.
Il a toujours été à l'origine d'idées novatrices et subversives dans les domaines de la musique, des révolutions sociales, des droits civiques, de l'écologie, des drogues et de la liberté sexuelle.

La plupart des combats et des utopies d'hier sont toujours d'actualité aujourd'hui.
À partir d'inspiration dénichée dans nos réserves, l'unité graphique de Yestoday imagine constamment de nouvelles créations et ce souvent en résonance avec l'actualité.
Inspired by this social, political and cultural treasure, Yestoday creates today.
Nous revendiquons un artisanat d'art pop.
Rarity
Yestoday, ce sont de nouveaux vêtements proposés à périodicité régulière.
• in silkscreen printing, printed in our workshop in Montreuil.
• in a limited and numbered number.
La commercialisation se fait en ligne et dans des boutiques qu'on aime.
Tous les t-shirts vendus sont signés, numérotés et accompagnés d'un certificat d'authenticité.
High-quality craftsmanship
Since we were teenagers, we have always built emotional relationships with our T-shirts and other clothing.
Aujourd'hui, c'est naturellement que nous les concevons doux à porter et prêts à durer.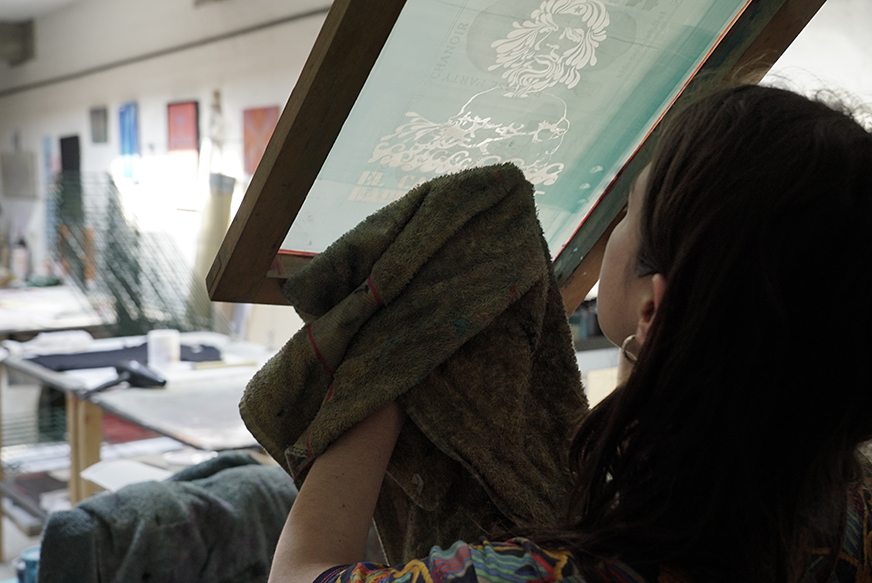 All our T-shirts are made of 100% organic combed cotton, manufactured in accordance with Fair-Trade standards.
L'impression en sérigraphie se fait à la main dans notre atelier.
Each T-shirt model has a name.
It always starts with My own private...
My T-shirt is like no other.
It's my own private Yestoday.
There may be unique copies.
Dès l'ouverture du carton ( un carton de vinyle 78t ou plus large pour les vêtements plus amples) ) contenant le produit commandé, à la découverte du visuel sérigraphié et du numéro inscrit manuellement au col, nous prenons plaisir à partager avec nos clients une expérience privilégiée et une relation à l'underground, là où tout démarre.
Yestoday c'est aussi
• A Preloved collection made from clothes, jackets, suits, even old T-shirts that already have a history. We re-appropriate forgotten stocks and bring our artistic and silk-screen printing know-how to it.
Ainsi, en s'offrant à vous, le vêtement démarre une nouvelle aventure. Là encore, on est dans des séries ultra-limitées.
• Collections of capsules that offer blank cards to artists, graphic designers, photographers, activists, poets.
• Special series for partners and prestigious events.
• Des accords avec des journaux d'information, des agences photos, des collections muséales et bien d'autres institutions dans le monde entier.
• Rare objects imagined or discovered.

Digital
The marketing of our products is, of course, done via our website.
Notre philosophie reste la même dans le monde virtuel (créativité, réactivité, militantisme et rareté) et nous l'exprimons sur Instagram @yestoday_spirit , Facebook, Twitter.
But above all Yestoday is in life, on the street, with you.